REGENCY FINANCIAL GROUP (RFG) is a financial planning, investment advisory, and wealth management firm established in 1995, which assists clients in every aspect of their financial life, including asset management, financial management, financial planning, portfolio management, retirement planning, estate planning, tax planning, and wealth management.
Our commitment to providing broad-based financial services is based on the premise of meeting all of our clients' financial needs. Our wide variety of product solutions coupled with access to planning specialists allow us the ability to offer integrated financial services to our clients. With complete objectivity, we truly represent only you, our client.
RFG's founder Vahick A. Yedgarian, CFP®, MBA, J.D. Ph.D., has been providing advisory services through other firms since 1995. The registration status for the firm-RFG's investment advisory license was approved on 1/1/1995-Withdrew: 2/16/2003. Approved: 6/6/2006.
RFG is a Registered Investment Advisor with the California Department of Business Oversight under the Corporate Securities Law and the California Administrative Code.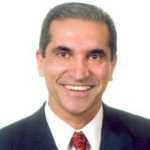 Vahick A. Yedgarian has been providing advisory services since January1, 1995 until the license was withdrawn February 16, 2003 to provide services through 1st Global. Vahick A. Yedgarian re-registered and was approved June 6, 2006 and has been providing advisory services through TD Ameritrade Institutional, a division of TD Ameritrade Inc., member FINRA/SIPC.
Vahick A. Yedgarian
Owner
Business Background:
Regency Financial Group, April 1991 to Present
Investment Advisory Background, 01/95 to Present
Registered Investment Advisor, June 6, 2006 to Present
1st Global Advisors Inc., Investment Advisor Representative, 11/2004 – 04/2006
Mony Securities Corp., Investment Advisor Representative, 12/2003 – 10/2004
Trusted Securities Advisors Corp., Investment Advisor Representative, 12/2002 – 12/2003
Grattan Financial Securities, Inc., Investment Advisor Representative, 08/1999 – 07/2002
Royal Alliance Associates, Inc., Investment Advisor Representative, 09/1994 – 03/1999
G. R. Phelps & Co., Inc., Investment Advisor Representative, 04/1992 – 09/1994
United Kingdom, Various Financial Institutions, 1980 - 1991
Accreditations:
Certified Financial Planner - CFP®
Personal Financial Planning - PFP, UCLA
Master of Business Administration - MBA
Juris Doctor - J.D., NU
Ph.D. in Business Administration, NCU